Say hello to Air Canada Rouge.
At Air Canada Rouge, we believe vacationing is a beautiful thing, and we strive to make every one of yours amazing, from beginning to end.
Go Someplace Nice
Escape to destinations around the world with Air Canada Rouge and enjoy smooth and easy connections from anywhere Air Canada flies.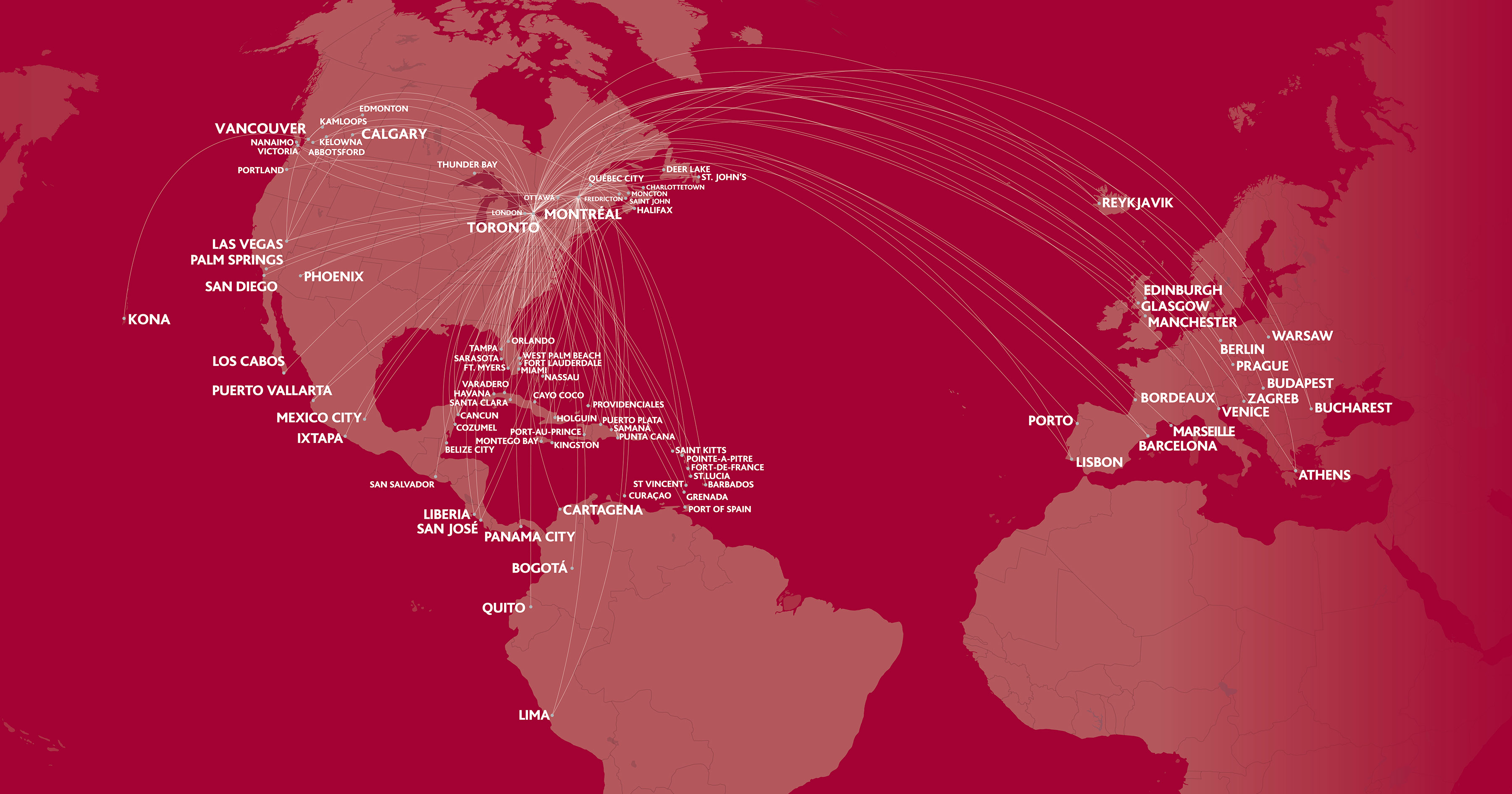 Below are Air Canada Rouge's flight routes from our hubs
Flights from Vancouver (YVR) to:
Ireland, Dublin (DUB)
Japan, Nagoya (NGO)
Mexico, Cancun (CUN)
Mexico, Mexico City (MEX)
Mexico, Puerto Vallarta (PVR)
Mexico, Ixtapa - Zihuatanejo (ZIH)
United Kingdom, Gatwick London (LGW)
United States, Honolulu (HNL)
United States, Kailua-Kona (KOA)
United States, Las Vegas(LAS)
United States, Orlando (MCO)
United States, Maui (OGG)
United States, Pheonix (PHX)
United States, Palm Springs (PSP)
Flights from Calgary (YYC) to:
Canada, Halifax (YHZ)
Canada, Calgary (YYC)
Mexico, Cancun (CUN)
Mexico, Puerto Vallarta (PVR)
United States, Las Vegas(LAS)
United States, Maui (OGG)
United States, Pheonix (PHX)
Flights from Toronto (YYZ) to:
Bahamas, Nassau (NAS)
Barbados, Christ Church (BGI)
Belize, Belize City (BZE)
Canada, Deer Lake(YDF)
Canada, Kelowna (YLW)
Canada, Abbotsford (YXX)
Canada, Charlottetown (YYG)
Canada, Victoria (YYJ)
Canada, Nanaimo (YCD)
Canada, Kamloops (YKA)
Canada, Quebec (YQB)
Colombia, Bogota (BOG)
Colombia, Cartagena (CTG)
Costa Rico, Liberia (LIR)
Costa Rico, San José (SJO)
Cuba, Cayo Coco (CCC)
Cuba, Havana (HAV)
Cuba, Holguin (HOG)
Cuba, Santa Clara (SNU)
Cuba, Varadero (VRA)
Curacao, Curacao (CUR)
Croatia, Zagreb (ZAG)
Czech Republic, Prague (PRG)
Dominican Republic, Samana (AZS)
Dominican Republic, Puerto Plata (POP)
Dominican Republic, Punta Cana (PUJ)
Germany, Berlin (TXL)
Greece, Athens (ATH)
Grenada and South Grenadines, Grenada (GND)
Hungary, Budapest (BUD)
Iceland, Reykjavik (KEF)
Ireland, Dublin (DUB)
Italy, Venice (VCE)
Jamaica, Kingston (KIN)
Jamaica, Montego Bay (MBJ)
Mexico, Cancun (CUN)
Mexico, Mexico City (MEX)
Mexico, Puerto Vallarta (PVR)
Mexico, San Jose del Cabo (SJD)
Panama, Panama City (PTY)
Peru, Lima (LIM)
Poland, Warsaw (WAW)
Portugal, Lisbon (LIS)
Portugal, Porto (OPO)
Romania, Bucharest (OTP)
Saint Kitts and Nevis, Basseterre (SKB)
Saint Lucia, Vieux Fort (UVF)
Saint Vincent and Grenadines, Argyle (SVD)
Sint Maarten, Philipsburg (SXM)
Spain, Barcelona (BCN)
Trinidad and Tobago, Port of Spain (POS)
United Kingdom, Edinburgh (EDI)
United Kingdom, Glasgow (GLA)
United Kingdom, Gatwick London (LGW)
United Kingdom, Manchester (MAN)
United States, Honolulu (HNL)
United States, Fort Lauderdale (FLL)
United States, Las Vegas(LAS)
United States, Orlando (MCO)
United States, Miami (MIA)
United States, Pheonix (PHX)
United States, Palm Springs (PSP)
United States, Fort Myers (RSW)
United States, San Diego (SAN)
United States, Sarasota (SRQ)
United States, Tampa (TPA)
Flights from Montreal (YUL) to:
Algeria, Alger (ALG)
Bahamas, San Salvador (ZSA)
Canada, Montreal (YUL)
Canada, Charlottetown (YYG)
Canada, Victoria (YYJ)
Canada, Quebec (YQB)
Costa Rico, Liberia (LIR)
Costa Rico, San José (SJO)
Cuba, Cayo Coco (CCC)
Cuba, Holguin (HOG)
Cuba, Santa Clara (SNU)
Cuba, Varadero (VRA)
Curacao, Curacao (CUR)
Dominican Republic, Samana (AZS)
Dominican Republic, La Romana (LRM)
Dominican Republic, Puerto Plata (POP)
Dominican Republic, Punta Cana (PUJ)
France, Marseille (MRS)
France, Nice (NCE)
Greece, Athens (ATH)
Guadeloupe, Pointe-à-Pitre (PTP)
Haiti, Port-au-Prince (PAP)
Iceland, Reykjavik (KEF)
Italy, Venice (VCE)
Jamaica, Montego Bay (MBJ)
Martinique, Fort De France(FDF)
Mexico, Cancun (CUN)
Mexico, Cozumel (CZM)
Mexico, Mexico City (MEX)
Mexico, Puerto Vallarta (PVR)
Mexico, Ixtapa - Zihuatanejo (ZIH)
Morocco, Casablanca (CMN)
Peru, Lima (LIM)
Portugal, Lisbon (LIS)
Romania, Bucharest (OTP)
Saint Lucia, Vieux Fort (UVF)
Spain, Barcelona (BCN)
United States, Fort Lauderdale (FLL)
United States, Las Vegas(LAS)
United States, Orlando (MCO)
United States, Miami (MIA)
United States, Pheonix (PHX)
United States, Tampa (TPA)
Flights from Edmonton (YEG) to:
United States, Las Vegas(LAS)